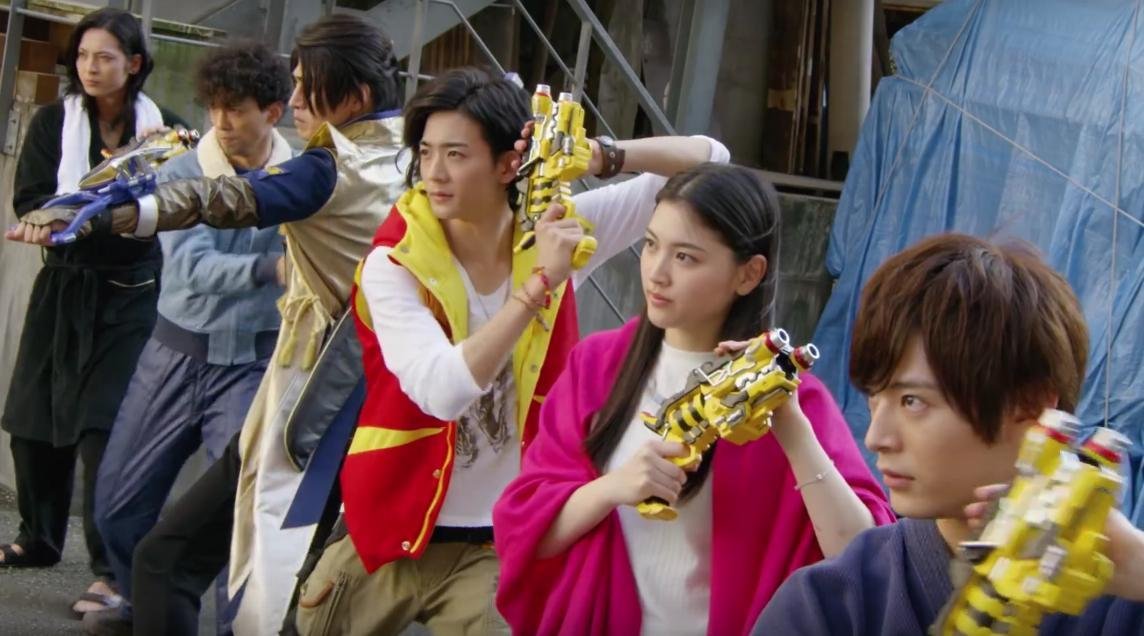 Four years after their story was completed, the cast of the dinosaur-themed series Zyuden Sentai Kyoryuger comes back for another hurrah, in this completely random, unexpected appearance. Showing up in multiple online videos, including a complete "lost" episode of the series, they're back to show us once again how brave they can be.
The videos are a collaborative promotional effort between RPG video game developers A-Lim and the tokusatsu maestros at Toei Company, as a means of advertising the upcoming Brave Frontier 2.
The mobile game seemingly bears no resemblance to the live-action special effects stylings of Kyoryuger except on the basic level that they both feature heroic figures in outlandish costumes beating the stuffing out of monsters. Also, the word "brave" is said about seven-trillion times per episode in Kyoryuger, so there's that. Otherwise, the link between the two may be a bit thin. But hey, if you want to give people more Kyoryuger, especially if the whole core team shows up to play, who are we to look a gift T-Rex in the razor-toothed mouth? Just smile and nod as the explosions fill the screen.
The first release is the story dubbed "Brave 33.5" of the series. These wedge episodes in tokusatsu always amuse me. Every actor clearly looks different from when we saw them in the surrounding episodes, but it's nice to see them again in fine form, virtually unburdened by whatever events may have weighed each character down in the proceeding stories.
https://youtu.be/C_3oVprAH1g
And then there's this parody video, once again featuring the whole core cast, this time in a form that is just slightly different from the norm.
https://youtu.be/uftrSWaNMec
The abrupt pauses. I am dead. You're reading the words of a dead person.
Here's a brief promo for the actual game that we can thank for this wonderful oddity. Born from the same minds that brought us the first in the series, this sequel takes place 30 years after the events of the original Brave Frontier.
Brave Frontier 2 releases for Japanese consumers on the iOS and Android on February 22, 2018. A Microsoft Windows release is expected shortly after.

You might also like:
Even the Original KAMEN RIDER Loves BLACK PANTHER
TOKU TROVE | (Dino) Charging Into Our First Collection
N.Y. MAXMAN 2018 Trailer: Rangers & Riders to the Max