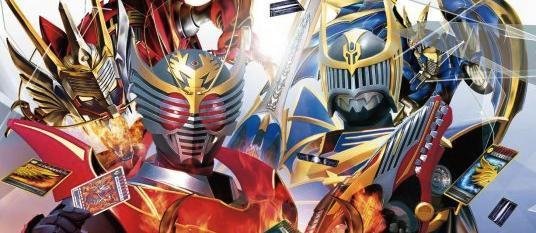 2008 saw the return of Kamen Rider to American television after over a decade of absence. The Japanese action hero franchise survived its ups and downs with the previous English-language adaptation in the form of 1995's divisive Masked Rider only to face a new challenge when Adness Entertainment picked up the brand rights for their own take.
The American Kamen Rider Dragon Knight would adapt the visuals from the original Kamen Rider Ryuki, but it would have a tough time finding a big audience on the now-defunct CW4Kids television block. But, for a passionate few, it represented the possibilities for a beloved franchise to branch out toward wider appeal someday soon.
Some of us are still waiting for the time when Kamen Rider may be recognized as easily as the likes of the Avengers, or even the Power Rangers with whom the Riders share so many aspects in common (though we won't say that too loudly to certain viewers). In the meantime, we can revisit fun artifacts like Dragon Knight, and maybe even find a different perspective on these titles that fell through the cracks on the road to perfecting that elusive formula for pop culture phenom status.
Here's a video from Youtuber Marcosatsu discussing Kamen Rider Dragon Knight, one of many takes on the wider live-action special effects subgenre at their channel, tackling cases from many sides of the global pond.
Kamen Rider Dragon Knight is available on international home media.
You might also like:
THE IMMORTAL RED FOX Vol. 2 Available Now
Is KAMEN RIDER Coming to American TV?
Shattered Childhood: The POWER RANGERS 25th Anniversary Episode