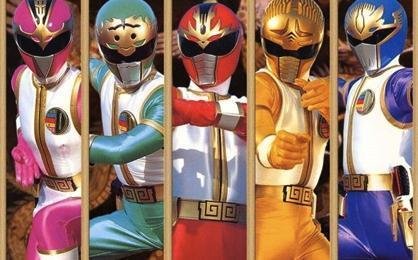 In February of 1993, Gosei Sentai Dairanger kung fu kicked onto the scene, and the world of Japanese tokusatsu was a little brighter. As the 17th entry in Toei Company's ongoing Super Sentai franchise, a breath of fresh air was on the menu, and we leave it to history to judge whether it paid off.
The series is remarkable to Power Rangers fans for a few reasons. While Mighty Morphin Power Rangers was first hitting the airwaves, based on Dairanger's dinosaur-themed predecessor, Kyoryu Sentai Zyuranger, the martial arts practitioners of the Five-Star Task Force were facing a tide of monsters from the dark Gorma Tribe. Later, footage from their adventures would find itself to the west when it was integrated into MMPR's second season.
Though many villains and giant mechs were utilized for Power Rangers, the Dairanger costumes were left on the cutting room floor, making it a unique beast among the 90s Super Sentai offerings. It was only years later, when Power Rangers Megaforce made use of costumes from many past entries of both franchises, that the Dairanger suits were first officially seen in the US-based series.
Youtuber Marcosatsu seeks to unpack feelings about the series after all this time, to see if it holds up.
Gosei Sentai Dairanger is available now on DVD from Shout! Factory, in the original Japanese with English subtitles.
You might also like:
Shattered Childhood: The POWER RANGERS 25th Anniversary Episode
SUPER HERO SYNOPSES | Trust Your Allies
Coming to DVD: CHOUJIN SENTAI JETMAN & HYAKUJUU SENTAI GAORANGER