Kamen Rider Build appears to be Rider Kicking butt on the sales charts, if Toys R Us' figures are any indication. The toy vendor juggernaut recently held a poll with shoppers asking them to vote on their favorite items available at their local store, and the results are in. Which Rider item crushed the competition, driving through to the top spot? Was it the HawkGatlinger, Sento's rapid-fire weapon of choice when he wants to deliver some righteous gunkata moves on fleets of robotic adversaries? Or maybe the Transteam Blade proved a cut above the rest, used by the nefarious Night Rogue and his on-again/off-again partner in crime Blood Stalk? Nah, let's go with something a bit more classic.
LiveDoor had these results to share, revealing the three most beloved pieces in the Toys R Us catalogue:
Coming in at #3 in the poll, with 636 votes, is the Takara Tomy Parking Set. Some tokusatsu fans may know Takara as the company that brought us 2008's special effects series Tomica Hero: Rescue Force.
In the #2 spot, with 688 votes, is Hatchimals Surprise Woomo.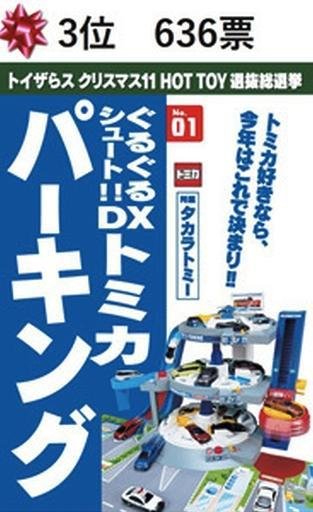 And finally, with 1,203 votes, here comes Sento and Ryuuga's DX Build Driver, for the win! Packaged with the Full Bottle Holder and Drill Crusher set, this item defeated all other competition to claim the #1 spot.
Using the Build Driver, genius amnesiac Kiryuu Sento transforms into Kamen Rider Build and his fugitive partner Banjou Ryuuga becomes Kamen Rider Cross-Z.
Better luck next time, HawkGatlinger. You'll always be a winner to me.
You might also like:
KAMEN RIDER BUILD is Fake AF in the Refreshing Episode 14
ULTRAMAN GEED & The Ultimate Mic Drop of Episodes 22 & 23
Gundam Takes Flight in Latest READY PLAYER ONE Trailer