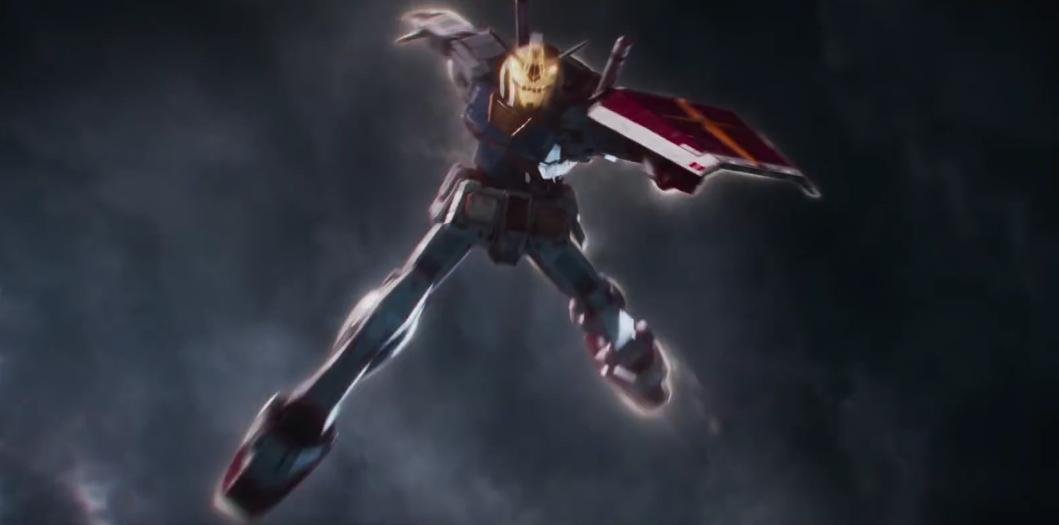 Ah, hell. Every Tom, Dick, and Harry decided to drop trailers for their mega-blockbuster these past two weeks. Must be another Star Wars December. This time, it's Ernest Cline's heavyweight pop culture champion Ready Player One, the bestselling book given life via the man who helped generate a large part of the very fan fervor his sci-fi adventure sought to invoke – famed director Steven Spielberg. And with this second extended look at the film, we have a ton of new iconic characters, images, and music cues to add to the growing pile that has nerds of all ages adjusting in their seats. Among these totemic titans is the anime super-robot tearing up the skies in a battle for the Oasis. No, it's not Voltron, like so many have misidentified him as. And no, it's not the Iron Giant, though he too has managed to squeeze into the explosive proceedings. It's Gundam!
The eponymous giant robot of the 1979 original Mobile Suit Gundam, roaring through its science-fiction war story with a laser-sword in hand and a flashing storm of bullets launching from its armored body, kicked off an enormous franchise with countless spin-offs and sequels that endure to this day.
The big lug is joined by a host of other familiar faces in the comic book, animation, sci-fi, fantasy, and video game multiverse, and that's just for starters. Before this trailer is done, it makes reference to dozens of media hits, from anime sensation Akira to Spielberg classic Back to the Future. From video game phenom Overwatch to slasher flick Child's Play. And that's just some of the more obvious nods.
Some fans have noted the absence of the special effects drama star Ultraman, the giant monster-fighting hero of his own long-lasting franchise, and though his presence is missed, it's understandable considering the legal matters the live-action series found itself embroiled in lately. Recent events, however, may have given our favorite flying kaiju wrangler another chance to get his shine, if it's not too late to toss him in with the likes of screen legend King Kong, seen leaping between buildings in the trailer. We'll keep our beam-blasting fingers crossed.
In the meantime, the film stars Tye Sheridan of 2018's X-Men: Dark Phoenix, Olivia Cooke who co-starred with cinematic Blue Power Ranger RJ Cyler in Me and Earl and the Dying Girl, and Ben Mendehlson who's no stranger to Star Wars December as Krennic from Rogue One: A Star Wars Story. The film also stars Simon Pegg, T.J. Miller, and Mark Rylance, with music from Alan Silvestri, responsible for the epic theme song featured most recently in another big trailer you might have seen, for Avengers: Infinity War.
Ready Player One uploads its virtual heroes into theaters March 30, 2018.
You might also like:
ULTRAMAN GEED & The Ultimate Mic Drop of Episodes 22 & 23
KAMEN RIDER ZX & ULTRAMAN's Laiha vs Super-Ninjas: The Trailer With an Ending Too Bizarre to Believe!
ULTRAMAN Anime Teaser – The Classic Hero Reborn