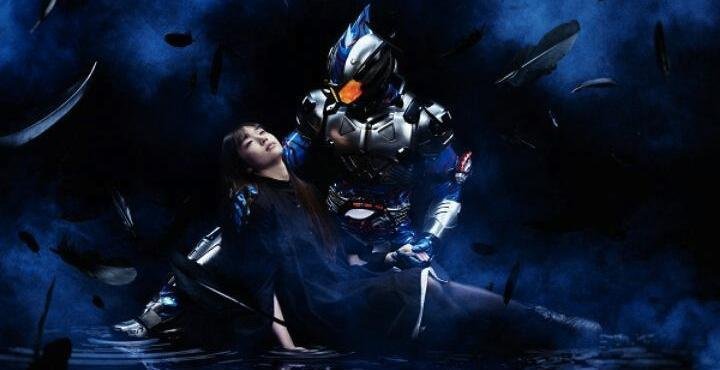 And the drama just keeps unraveling for the crew of the Amazon Japan streaming series, Kamen Rider Amazons, as they rev up for their feature film event. Marking Toei Co's first major foray into live-action special effects television produced primarily for online streaming, Amazons is based upon the decades-long Kamen Rider action franchise, but with a somewhat darker tone than your candy-coated family-friendly adventures of today. If you ask me, it's really just early 2000s Kamen Rider with an extended runtime, but then, I suppose the era where that sort of intense drama, coupled with sometimes violent or risque content, is no longer suitable for Sunday Morning broadcast. So, why not leapfrog that platform altogether and go out with a bang on the biggest screen possible?
Kamen Rider Amazons is based most strongly on an earlier series in the franchise, the 1974 entry simply called Kamen Rider Amazon. Though the plot and characters are almost entirely different, chiefly only having a few design flourishes in common with its namesake, Amazons evokes the vibe of more than one bygone era for the Rider saga, a brand that never dies so much as evolves, like its lab rat protagonists, constantly growing and changing with time.
Its initial run proved enough of a success that a second season was commissioned, making it somewhat of a unique title in the Kamen Rider canon, as the show is always reinventing, a new mainstream series introduced annually with its own new characters, stories, and of course, an avalanche of merchandise to fill toy shelves. Only one other series managed to snag a direct sequel (though we use the term "direct" loosely), when 1987's Kamen Rider Black upgraded to Kamen Rider Black RX the following year, to mixed reception.
Amazons, by all accounts, has enjoyed a smoother transition from one epoch to another, now poised to conquer movie theaters this spring. The announcement came to us after the current film, Kamen Rider Heisei Generations FINAL Build & Ex-Aid with Legend Riders made a surprise announcement in its closing moments, alerting fans of the new Amazons movie.
The new Kamen Rider Amazons – Final Chapter hits Japanese theaters this Spring 2018.
You might also like:
POWER RANGERS: LEGACY WARS Game Scores $11M Investment
Which KAMEN RIDER BUILD Toy Ranks #1 With Collectors?
KAMEN RIDER ZX & ULTRAMAN's Laiha vs Super-Ninjas: The Trailer With an Ending Too Bizarre to Believe!