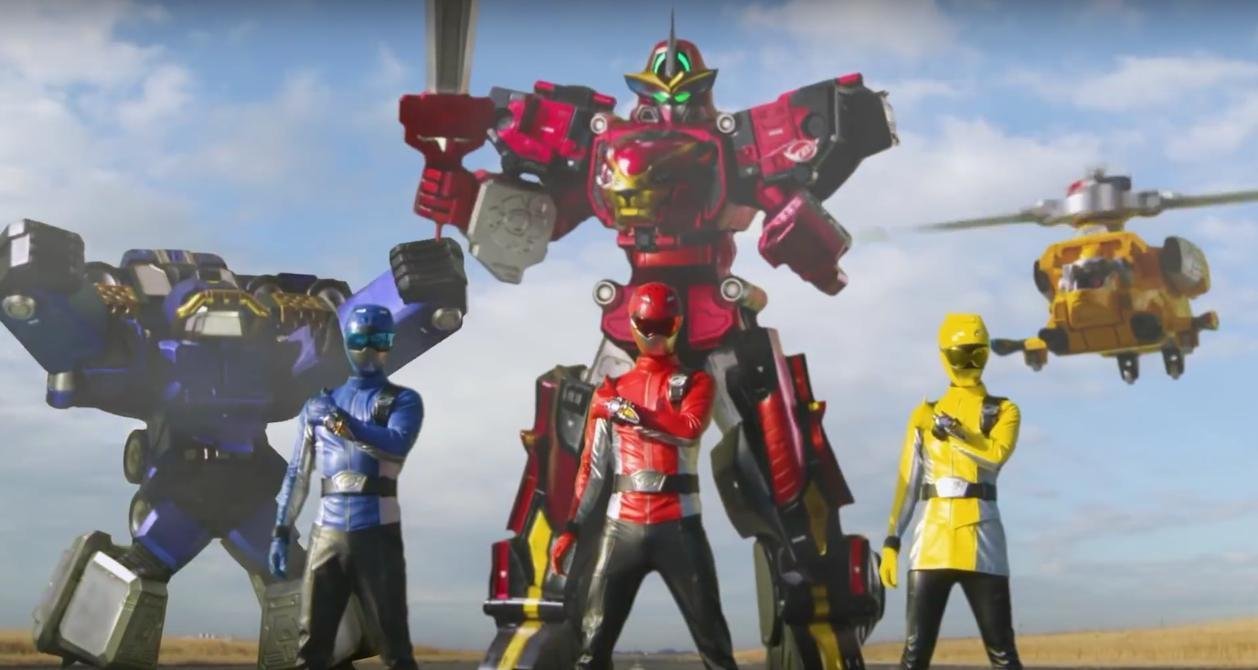 It's that time again. A new Power Rangers incarnation is on the horizon, and fitting with recent tradition, we're treated to an early trailer of what lies ahead for us in the coming year for this long-running franchise. In keeping with that tradition, of course, this video features no footage of any members of our new super-team, as it debuted at this month's Power Morphicon event so early that no actual scenes had yet been shot with them. What we do have is lots and lots of footage from 2012's Tokumei Sentai Go-Busters, the 36th installment in Japan's Super Sentai brand, from which Power Rangers gets much of its action visuals.
Power Rangers is such a unique animal when it comes to modern entertainment, a hybrid between Japanese-produced fight scenes from Toei Company and American-funded dialogue sequences previously handled by the likes of Saban and Disney, depending on the era. Hasbro's recent acquisition of the franchise means the toy and entertainment juggernaut inherits this strange beast, and we have yet to see what affect (if any) this new entity will have on the TV series. Even with the upcoming Power Rangers Beast Morphers season in our sights, we can't be sure, as this iteration was first given life while still under the control of their previous owners at Saban Brands. So, the question remains: Just how much of a new car smell can we expect Hasbro's Beast Morphers to have when a whiff of the other guy is still lingering in the air?
It still weirds me out, personally, that Go-Busters is becoming Power Rangers. It was the first Super Sentai series in ages whose footage was left untouched by the western adaptation, and fans had assumed it would remain so. Frankly, most of what we've seen of the Power Rangers franchise since that point has made me look on that as a bit of a blessing. Of course, no matter what may be done with some of its action footage, the original Go-Busters will always be a great series, in my view. But if the adaptation had been handled in the same way recent Power Rangers seasons have, I can only imagine the disappointment at all that wasted potential.
And now, I'm forced to imagine it all over again. Because, for all the enthusiasm I've experienced over witnessing the new Beast Morphers cast taking the stage at Power Morphicon, I still worry for the show's quality.
Creatively speaking, has anything changed in the transition from Saban Brands to Hasbro? Will the current season, Power Rangers Super Ninja Steel, be a strong indication of the approach taken with storytelling and characterization in Beast Morphers? If so, I can't say that thrills me. All that glorious footage, and the great-looking cast assembled to help bring it to life. It would be a shame if I watched the first few episodes and realized again, as I did with Ninja Steel, that this show just wasn't for me. Not because it's for kids, or any of the typically reductive clapback some people might toss out when I tell them I'm not a huge fan of recent episodes. But because the spirit of the show and its entertainment value, even for very young children, just isn't there the way I feel it should be. I want more for modern Power Rangers. Don't fans deserve that?
Whatever the outcome, I'm ready to see for myself what Beast Morphers has in store when it premieres in 2019. Let's hope it's as dynamic as the promo would like us to believe.
You might also like:
SF X FANTASY RAYFORCE – What Might Have Been Blown Up
5 Things to Love About ULTRAMAN ORB: THE ORIGIN SAGA
POWER RANGERS: The 10 Best Episodes