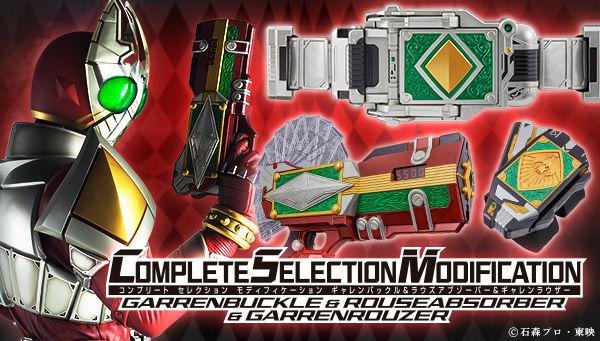 Within the past few days Premium Bandai teased its next Complete Selection Modification release. The release itself being based on the transformation device and arsenal of Kamen Rider Garren, as seen in "Kamen Rider Blade." In the series, Sakuya Tachibana used the Garren Buckle and Garren Rouzer to become Kamen Rider Garren. However in episode 30, the character would obtain the Rouze Absorber unlocking Jack Form.
Now, Premium Bandai's Complete Selection Modification releases for the items have three possible options in how fans can purchase them. The first option is a standalone Complete Selection Modification Garren Buckle release, this includes the belt, projector, 4 Rouze Cards, and Garren Jack Form Plate. Whereas, the second option pairs the Garren Buckle with the Garren Rouzer, which includes the previously mentioned items, holster, blade attachment, and a total of 31 cards. However, the final option Premium Bandai provides fans to purchase the both items with a reissue of the Complete Selection Modification Rouze Absorber. Thus, the final option becomes the ultimate set for Kamen Rider Garren fans!
Then as for the electronic features within both the Complete Selection Modification Garren Buckle and Garren Rouzer, they will each have newly re-recorded dialogue from Hironari Amano (Sakuya Tachibana). The Garren Buckle is set to include nearly 170 lines from Mr. Hironari, while the Rouzer's limits have not been confirmed. In addition, both products with include BGM tracks from the series score, as well as series' opening "Round Zero~Blade Brave." Furthermore, the Complete Selection Modification Garren Rouzer will be able to read the cards previously released for the Kamen Rider Blade set and vice-versa.
https://www.youtube.com/watch?v=QFflVpyvvGo
Pre-orders are currently available on Premium Bandai's website, with first wave orders scheduled to release in June. For international fans interested in purchasing any available option, they should contact their preferred middleman service now. However, for fans living in United States, they should expect Bluefin Brands' Team Rider opening pre-orders in the coming days!