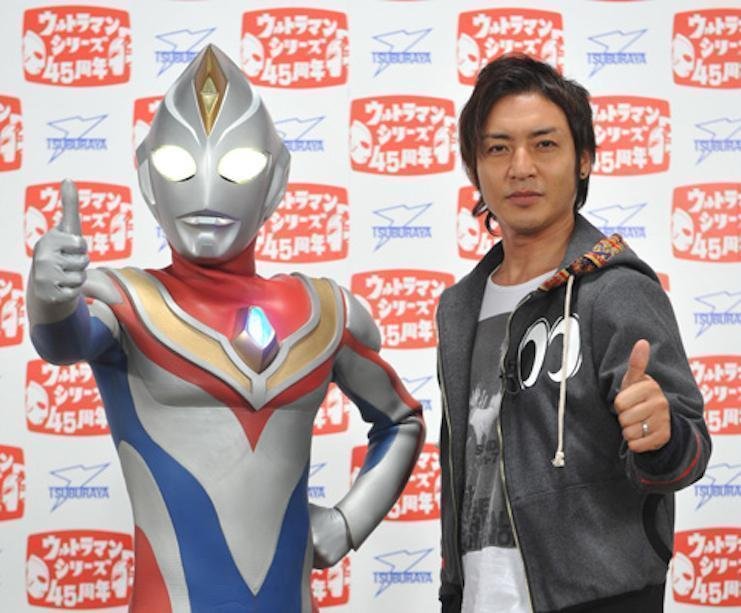 A loud thunderclap rang out in the Ultraman fandom when it was announced that Dragon Force: So Long, Ultraman, the sequel to China's animated Dragon Force movie, would feature their own interpretation of the classic red-and-silver giant hero Ultraman, owned by Japan's Tsuburaya Productions. Not only that, but this character, whose use of the Ultraman name is highly discouraged by its Japanese owners, was portrayed as a villain in the film's promotional material. Embroiled in legal battles for years over the rights to their original intellectual property, Tsuburaya has had its hands full. But they're not the only ones upset over this development. It seems even the Ultraman actors themselves have begun adding their voices to the chorus speaking out against this project.
Actor and musician Tsuruno Takeshi took to Twitter to express his displeasure with the filmmakers' intentions to go forward with this stain upon the Ultraman name, beloved by millions across the globe.
As Shin Asuka, the lead hero of 1997's Ultraman Dyna, he dazzled audiences with his charming presence, and has made multiple appearances since then, most notably in the Mega Monster Battle: Ultra Galaxy Legends movie where arch-enemies Ultraman Zero and Belial first surfaced, as well as the recent prequel series Ultraman Orb: The Origin Saga. His street cred is quite well documented.
Tsuruno had a few choice words to lend to the discussion on the unauthorized Ultra film.
So you have finally showed yourself "Fake Ultraman". Using Fake Mask, wears the Justice
and easily deceive the Children of China. I won't forgive the Dirty Villain.
Oh snap.
While we sit back with our popcorn and enjoy the fireworks to come, it may get worse before it gets better at Camp Tsuburaya. Even as protests against the "So Long, Ultraman" debacle march on, its director Wang Wei has remained steadfast in his assertion that his work is perfectly legal and that their intention is to produce six films with the Ultraman brand.
Not if Tsuburaya has anything to say about it. They've already begun releasing Chinese-language dubs of its popular Ultraman Orb series on their official Youtube channel to set the record straight.
To support Ultraman's continued success, you can stream the most recent episodes along with a host of others on Crunchyroll, and purchase Ultraman merchandise at CSToys and BigBadToyStore.
[Source: Nihon Hero]