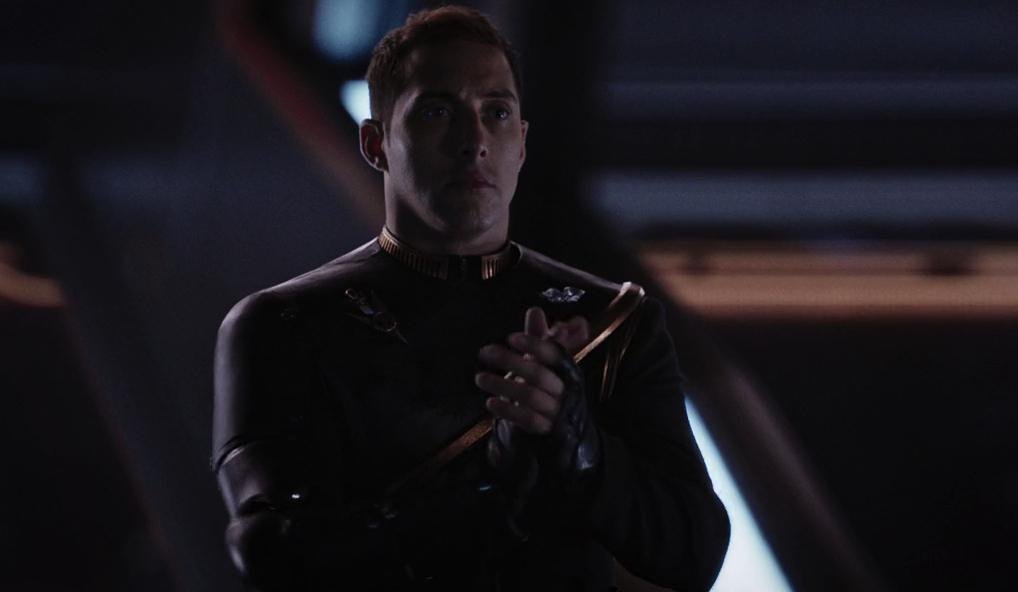 Power Rangers fans who tuned into the premiere episode of the new Star Trek: Discovery got a surprise late last year when one of their own from the spandex-sheathed superhero saga appeared aboard the bridge of the USS Shenzhou as a Starfleet Officer. Chris Violette, known best to many of us here at Henshin Justice Unlimited as Blue Ranger Sky Tate from Power Rangers SPD, had a guest-starring role on the 2017 space opera, as an officer in the star-spanning United Federation of Planets. Not the biggest leap from his job aboard SPD, where he was also a man in uniform, fighting to protect the innocent from the weird and wondrous alien threats of the future. We hoped we might see Violette again on Discovery, but after the events of its two-part opener, many believed we had closed the book on such a possibility. Read on to find out the circumstances of Violette's return, but be prepared. What follows contains spoilers for the Discovery season so far.
What might have made things difficult for those hoping to see Violette return to the series was the fact that the starship his character served on, the Shenzhou, had been attacked in the premiere by a menacing Klingon fleet. The result of which was the evacuation of the Shenzhou after suffering massive casualties, including some of the vessel's beloved crew. From there, the story transitioned to a different vessel and a fresh crew, with a few exceptions that did not include Violette.
But in Discovery's latest (Episode 10, "Despite Yourself"), after a long series of exciting events, the USS Discovery found itself lost in an alternate universe where mirror doubles of the show's extended cast reside but with radically different personalities. One such castmember is Violette, returned to the exploratory vessel he called home, now transformed into a darkened warship manned by a vicious crew of conquerors for the Terran Empire.
Violette is no stranger to changing uniforms, having gone from Blue Ranger to Red Ranger before his time on Power Rangers came to an end. It's only right that his Star Trek alter ego get to mix things up, playing a darker version of his dutiful self in the franchise's much-beloved Mirror Universe. Sadly, they opted not to give him the customary goatee.
As this was but the first of multiple full episodes taking place within this harrowing alternate universe, we expect to see a bit more of Chris Violette's mirror twin Terran Officer as the series continues. We'd better. We're paying good zanabatars for this!
Star Trek: Discovery streams weekly with new episodes on CBS All Access, Sundays at 8:30 ET.
You might also like:
Shattered Childhood: The POWER RANGERS 25th Anniversary Episode
ULTRAMAN Rights Challenged Once Again, Tsuburaya Productions Back in Court
INUYASHIKI Teaser: KAMEN RIDER DEN-O Joins the Dark Side